ESP32 library and example for TI CC1100 Low-Power Sub-1 GHz RF Transceiver
CC1101 is a low-cost sub-1 GHz transceiver designed for very low-power wireless applications. The circuit is mainly intended for the ISM (Industrial, Scientific and Medical) and SRD (Short Range Device) frequency bands at 315, 433, 868, and 915 MHz, but can easily be programmed for operation at other frequencies in the 300-348 MHz, 387-464 MHz and 779-928 MHz bands.

The RF transceiver is integrated with a highly configurable baseband modem. The modem supports various modulation formats and has a configurable data rate up to 600 kbps.

CC1101 provides extensive hardware support for packet handling, data buffering, burst transmissions, clear channel assessment, link quality indication, and wake-on-radio.

The main operating parameters and the 64- byte transmit/receive FIFOs of CC1101 can be controlled via an SPI interface. In a typical system, the CC1101 will be used together with a microcontroller and a few additional passive components.

The CC1190 850-950 MHz range extender [21] can be used with CC1101 in long range applications for improved sensitivity and higher output power.
GitHub repository:
https://github.com/loboris/ESP32_CC1101
How to build
Configure your
esp32
build environment as for
other esp-idf examples
Clone the repository
menuconfig
and configure your Serial flash config and other settings. Included
sdkconfig.defaults
sets some defaults to be used.
Navigate to
CC1101 Example configuration
and set
CC1101
and
example
parameters:
Example
You will need two
ESP32
boards and a pair of
CC1101
modules, any one will work:
https://www.google.com/search?q=CC1101& ... zmUvvLkcAC
Tested with cheap one from eBay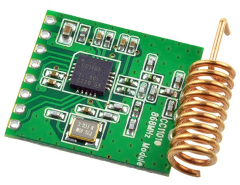 Connect the CC1101 to the ESP32 SPI interface. SPI pin configuration can be changed, see
componnents/cc1100/libcc1100.h
for detailes.
Example application creates two tasks, one for transmitting and one for receiving.
The transmitting task sends the current time stamp and current temperature measured by CC1101.
The receiving task prints received data when it is available.
Example output:
With debug ON: